Tiny Books
The Darwin Sonnets

Leftover Scrap

Nā Pepa Koena

ATTENTION PATRONS
The People You Meet @ The Public Library
Rough Draft
Book of Aphorisms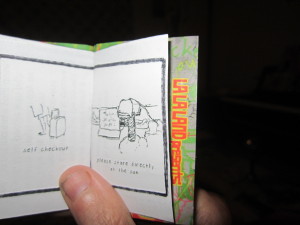 TXT Literature
in which our text machine sends u bits of an in progress novel in byte-sized daily text message increments. geared towards the modern working woman who might not have time to get to the library. UPCOMING RELEASE: FAILURE (section 10)
FAILURE
Volume 1 of FAILURE is Not an Opinion could be a thing if anyone wanted to bother with publishing it. This ongoing serialized collection of story is available in various formats. Samples of FAILURE practically saturate this very webspace. For example, check out the digital archive at ojpl.org/digital/books/. And, rumor is, depending on the positioning of the moon, some earlier instances of FAILURE can be found at the old abandoned ojpl.info page. Treasure maps can be provided upon request.
The For Sale Cycle
For Sale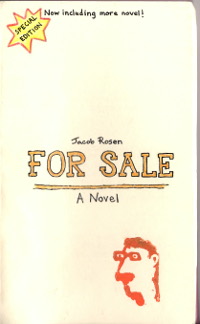 MYSTERY!
ROMANCE!
FICTION!
Part I. For Sale [read online] -- Part II. When-it-all-changed : or, The Telltale Instant After Which It Is No Longer The Same [read online] -- Part III. It Could Always Be Worse [read online]
For Sale : A Novel. [read online] [borrow from library]

[acquire your own copy]

NOT QUITE SOLD OUT YET. ALMOST, BUT NOT QUITE.
---
Are You Buying This Shit?
Are You Buying This Shit? : A Mainstream Novel is the second book in this particular series of mystery/romance/adventure-survival/science fiction books. [borrow from library]

[acquire your own copy]

MULTIPLE UNBOUND COPIES STILL AVAILABLE FOR BUYING!
Part I. [read online] -- Part II. He Iʻa Nui Ma Ka Loko Liʻi [read online] -- Part III. The Princess of Lions [read online]
---
On the Nature of Things That Flow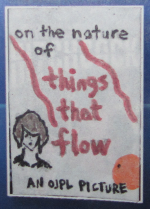 The latest, perhaps still unfolding, ever flowing novel in the For Sale cycle. On the Nature of Things That Flow : An Imaginary Manifesto For Our Unyielding Revolution has manifest itself in many forms.
OJPL Presents: A Series of Science Fiction
A New Nation
A story about a house guest—a visitor from another world that enters your home in a, let's hope, respectful manner. A story of science and a story of fiction. A story about the building of a nation that maybe everyone might actually want to live in, perhaps?—for reasons other than we've got no place else to go (or, it could always be worse). A story about plans coming together, because, why not? [read online] [borrow from library]
---
You're Always So Late
It is unclear as to what this book is about. Turtles, perhaps? Well, inasmuch as its characters are attempting to connect with the foundations of their reality, maybe. Maybe. Oh well, enjoy. [read online] [borrow from library]
---
The Petition
In this 3rd installment of our popular series, our intrepid protagonists come together to voice their demands to the powers that be having the ability to give redress to said demands. Here, through this book of words of various spellings, we begin perhaps to see the embodiment of that world alluded to at the start of our particular journey through space and time. [read online] [borrow from library]
---
We're Having A Party!
Well, aren't we? We didn't forget to invite you, did we? Anyway, this is it. The long awaited End of the Series. Are you ready? [read online] [borrow from library]
---
The Prequel
More words. A little back story to flesh out our imaginary multiverse. Read it first or last or not at all. No skin off our back. It is not as if this is really happening (you bet your life it is).
Call For Submissions!
Have something you want published, like a novel or a dissertation or a poem or a half-baked scheme? Submit to the OJPL! You know you want to. Maybe OJPL Publishing will publish your short story and/or political manifesto and/or recipe for delicious cookies. We are open to all genres of things, big and tiny. Send proposals to ojplpublishing [at] ojpl [dot] info with the subject: PROPOSAL!

The first official imprint from OJPL Publishing. Ke Kahawai Nui Hou only publishes books that significantly alter the mainstream of human and/or non-human thought through various mechanisms of probably quantum entanglement or something.
Hoʻolele Leo Division
Announcing semi-new Division of Hoʻolele Leo. Responsible for all Audio Format Books put out by OJPL Publishing. Our inaugural release, published in conjunction with OJPL Music:
Chapter Self Checkout
.
---
Ke Kahawai Nui Hou
The Mainstream Novel Company: Kaʻao from The Naʻau
About
Something is happening here. What it is is not exactly clear.
A Mainstream Novel in Three Parts
Other Mainstream Works in Progress
Publishing
Paʻi mākou i nā puke āpau. Makemake ʻoe e paʻi paha i kekahi puke? ʻAʻole mea nui. I'm sure we would love to help you publish your very important manaʻo. Ke Kahawai Nui Hou will help you shape your ideas to your desired specification and make manifest your most potent dreams.
Distribution
We are so tired of distributing all of these books that we publish. I suppose this is what happens when you divert all of our streams. No matter, Ke Kahawai Nui Hou is unstoppable, perhaps. Yawn. We would love to disseminate all of the books. Please open your heart to receiving our most blessed gifts.
Contact
We here at Ke Kahawai Nui Hou believe that contact is very important. In fact, we would say that it is the first step to any act of successful communication. Of course, some people simply do not like to be touched. Please contact others responsibly.
Noʻonoʻo mākou ʻo Ke Kahawai Nui Hou i nui loa ka pā. I ka ʻoiaʻiʻo, haʻi mākou i ʻo ia mea ke kaʻi ʻekahi no kekahi hana o kaʻaʻike holo pono. ʻĀ ʻoia, ʻaʻole makemake kekahi kānaka e hoʻopā mai. E ʻoluʻolu ʻoe, e pā ʻoe i kekahi kānaka me ke kuleana.