Extra! Extra!
U
m. Here be new things of relevance to you, the one who ingests new things.
OJPL: The Blog
O

range Juice Public Library : The Blog
is the first and only official weblog of the Orange Juice Public Library, although it is perhaps maybe the third weblog put out by its probably now-defunct parent organization, Orange Juice in the Northeast..., depending on how a person counts such things.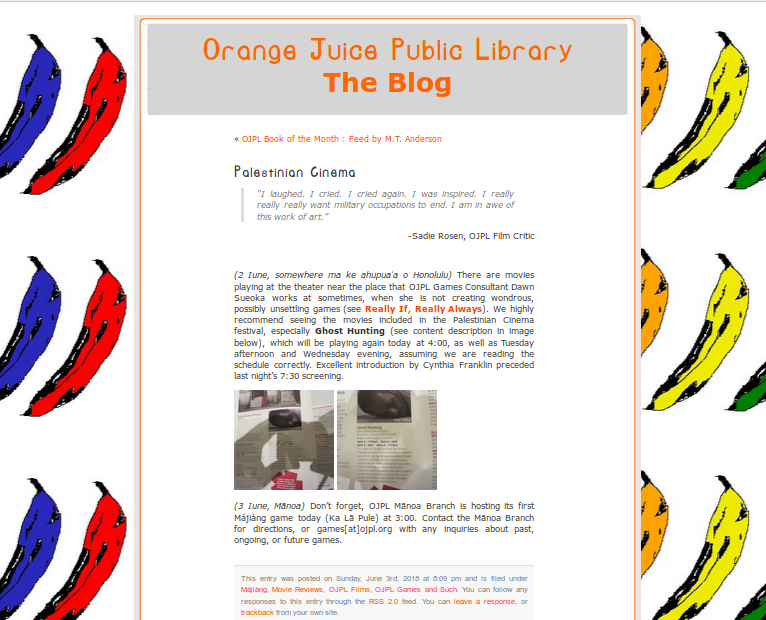 Bringing you the very infrequent news since at least 2007, but possibly earlier,
The Blog
is still the only social media utilized by OJPL News. The crumudgeonly OJPL News crew clearly prefers dabbling in the more anti-social, standoffish news mediums, such as yelling at their neighbors from behind their louvered windows, and email.
Weather Report
The weather definitely exists. This much is clear according to official sources that say that maybe it has been a bit hotter these past few days due to the sun probably. Also, Kona-type winds? Other sources say that another cold front is moving in. Expect rain, says this source that offers no promises, but does happen to be a master of information. Please enjoy the weather responsibly.
The Daily Juice
NEW THING HAPPENS!
Everyone Surprised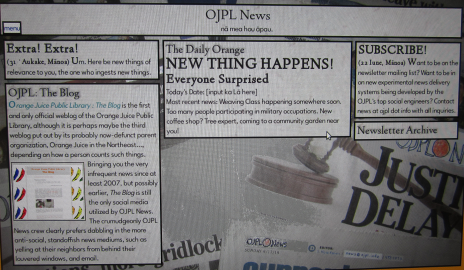 -Photo by Sadie Rosen
OJPL overhauls their web presence for fifth time in thirteen years.
M
ost recent news: Weaving Class happening somewhere soon. Too many people participating in military occupations. New coffee shop?
Strike
! In other news: Well, art is art, isn't it? Still, on the other hand, water is water. And east is east and west is west and if you take cranberries and stew them like applesauce they taste much more like prunes than rhubarb does. Now, uh...now you tell me what you know.
GRADUATIONS: Special Report
W
ord is that the commencement speaker at a certain Mānoa graduation ceremony is going to be a certain world famous trans woman journalist (no, not me, silly). This speaker has written two books, the first of which (and at least one
accompanying video
[
Janet Mock on Words & Redefining Realness
]) discusses the formative impact that the HSPLS Kahili-Palama Library had on the author. Now, perhaps it cannot be denied that being enmeshed in the world of imaginary librarianship gives me a certain bias towards things such as
Redefining Realness
, but I think it is notable that, as of last year, only 7 out of the 51 or so Hawaiʻi State Public Library branches had a copy of this best-selling book that explicitly speaks to the value of the Hawaiʻi State Public Library System. Number of copies at the aforementioned Kalihi-Palama Branch 0. [CORRECTION: We are happy to report, as of this past year, the nice folks at the Kalihi-Palama Branch did acquire a copy of this book. Yay!].  The more recent book specifically addresses the author's time at the University of Hawaiʻi at Mānoa. Number of circulating copies in the entire UH system: 1 (UH - West Oʻahu). OJPL copies: 0 (Of course, for all we know, this could simply be
Please see Graduations on B7
SUBSCRIBE!
W
ant to be on the newsletter mailing list? Want to be in on new experimental news delivery systems being developed by the OJPL's top social engineers? Contact news at ojpl dot info with all inquiries.
GRADUATIONS
continued from B4
a cataloging error). Not to be too critical of our selves and our associated institutions, of course. We aim to be
generative
, obviously. UPDATE: One of our OJPL News reporters was able to just barely miss the UH Mānoa graduation ceremony. However, a non-affiliated library-adjacent source on the ground told our intrepid reporter that the keynote speaker was really good and that she actually discussed the importance of libraries for accessing trans materials
and
her history with the Kalihi-Palama library! Also, apparently, video of the speech will probably be available at some future and/or present time juncture.